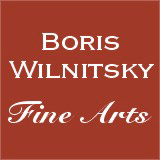 SALE!!! SAVE MONEY !! 1 EUR = 1 USD
# 37390
Ludwig Guttenbrunn "Anna Alexandrovna, Duchess Serra-Capriola", Outstanding Oil Painting!!, 1797
50000 EUR
FINAL DISCOUNT PRICE= 50000 USD
( for EUR price see date rate )
Please note: Shipping and insurance costs are not included in this promotion, ONLY ITEM PRICES!
(please note additional Austrian VAT tax applies for transactions concluded within the European Union)
Recently, our attention was drawn by the online catalogue of November 10th (2013) sale of French auction house "Herbette" (located in the town Doullens near the Franco-Belgian border, region Picardie), namely, its Lot No.35 titled "Ecole Romantique du XIXé (sic! - BW) "Elegante á la missive dans un passage italianisant" (see our image nr.16). Our initial feeling was: "No! It cannot be true! It is a real Guttenbrunn!" (as a result of many years of collecting of portrait paintings from the turn of the 19th century, we naturally possess keen knowledge of the œuvre of Austrian artist Ludwig Guttenbrunn, who spent several years living in Russia; one of his paintings (seen years ago in Tretyakov Gallery in Moscow) similar in composition left a particularly deep mark; it is a portrait of a Russian lady, known as certain Bibikova (see our image nr.17)).
The full clarity was achieved in the matter of seconds: by enlarging (zooming out) the online catalogue image on our PC, we were able to clearly see the artist's signature on the stone, on which our young lady is resting on. It was "L. Guttenbrunn /...". The line beneath the signature was unfortunately unreadable, thus we had to "console ourselves" only with approximate date of the late 1790s (according to the young lady's dress and hair-style).
The small-town auctioneers (who sell agricultural machinery today and works of art next day) never mentioned the presence of artist' signature in the catalogue (they either missed it, or considered it not deserving a mention in the description of a work of art...), what was extremely helpful for us. Consequently, in absence of (otherwise multiple) bidders from Russia, we won (via telephone) the bid, although were forced to engage in the auction room battle with one of the potential buyers (a local art dealer?), who surely did discover the signature of Guttenbrunn but was unaware of the portrait's Russian origin. Thus, the battle was not long lasting. By offering the price ten times higher than the starting one we "knocked him out of his stride".

We had no reservations concerning the depicted lady being Russian, for her overall appearance strongly echoed the (aforementioned) portrait of Mme Bibikova, as well as Guttenbrunn's other portraits made during his 10-year-stay in Russia (see our images nr.18-32).
We turned to mentions of his "Russian works" in art literature. Among the few known portraits of Russian ladies (as the matter of fact, there are not too many of them around) we found portraits of
- daughters of Tsar Paul I: Grand Duchesses Catherine Pavlovna, Alexandre Pavlovna and Marie Pavlovna (all of them depicted in childhood)
- portrait of (already mentioned) Mme Bibikova (1803)
- portrait of Princess Catherine Golenishcheva-Kutuzova (1797)
- portrait of Countess Ekaterina Lvovna Golovkina and
- briefly mentioned (one line in text!) by D. A. Rovinski (see our images nr.33-34) portrait of Anna Alexandrovna, duchesse (Duchess) Serra-Capriola, nee Princess Vyazemskaya (daughter of aforementioned Catherine Golenishcheva-Kutuzova).
Due to the fact that all other (aforementioned) female portraits were either already published (as those of Bibikova, Golenishcheva-Kutuzova and Golovkina), or displayed discrepancy in age of depicted persons, we set off on the search for possible representations of Princess Vyazemskaya (still in her girlhood or already as Duchess Serra-Capriola).
This search brought positive results. In (known to every lover of Russian portrait painting) publication of Grand Duke Nikolai Michailovich Romanov "Russian portraits of XVIII and XIX centuries", we discovered a miniature portrait painted by an unknown artist, which depicts (somewhat elder than our sitter) Duchess Anna Alexandrovna Serra-Capriola (see our image nr.35). This portrait features an undeniably likeness to our young lady! Additionally, we were able to find a portrait of Anna Alexandrovna's mother, Princess Elena Nikitichna Vyazemskaya (nee Golenishcheva-Kutuzova), sharing the same facial features (see our image nr.36)!!
Our further research led us to recently (and for the first time!) published (it was brought to Russia in 2003, in order to be exhibited in St. Petersburg's Russian Museum - see our images nr.37-38) "alleged" (!!) portrait of Duchess Anna Alexandrovna Serra-Capriola from the family collection of her Italian heirs. This portrait attributed to Austrian portraitist Joseph Hickel (sic! he visited neither Italian regions where Dukes of Serra-Capriola lived, nor Russia) shows a quite mature (dressed and hair-styled according to fashion of the early 1790s) lady, who shares no likeness with young Anna Alexandrovna in the book of Grand Duke Romanov!
We are absolutely certain that this (ca. 40-year-old) woman could in no way be "Russian" duchesse Serra-Capriola, who was born in 1770, and who in the 1790s was between 20 and 30 years old!

Anna Alexandrovna, Princess Vyazemskaya was born in 1770 as daughter of Senat's "Ober-Prokuror" (English: Chief-Procurator, or Prosecutor) Prince Alexander Alexeevich Vyzemski (1727-1793; see our image nr.39) and Princess Elena Nikitichna Vyazemskaya, nee Princess Trubetskaya (1745-1832; see our image nr.36). On November 12th 1788, Anna Alexandrovna married Antonio Moresco, Duke (duce) Serra-Capriola (also Serra-de-Capriola, Serracapriola. Antonio Moresco (1750 Naples - 1822 St. Petersburg; see image nr.40)) was then a Neapolitan ambassador at the Court of Catherina the Great. Later (after Napoleon's siege of Naples), he went back to being a private person, who nonetheless retained important international connections, and who - as before - continued to play decisive role in behind-the-curtain intrigues.
His young wife (St. Petersburg's high society referred to her as "duchesse") took up painting and painted with watercolors. Their house in Fontanka Street 22 was one of the most glamorous salons in Russian capital that daily received guests (great Russian poet A.S. Pushkin was one among them; see our image nr.41). After the death of Anna Alexandrovna's father (1793), she inherited their family's summer estate Murzinka by St. Petersburg (see our images nr.42-43).
Duke and Duchess had two children:
- Nikolai (Nicolo) Antonovich (1790-1870) was raised and educated in St. Petersburg. In 1840 he was appointed Ambassador of the Kingdom of Naples and Two Sicilies in Paris. In 1848 he became the prime minister of his Kingdom. He was also a first-class draughtsman and watercolor artist (see our images nr.42-43).
- Elena Antonovna (died in 1820), wife of General of Cavalry Stepan Fedorovich, Prince Apraksin. She died after the birth of her fourth child.

Duchess Anna Alexandrovna outlived her husband and her daughter by 20 years; she died in 1840 in St. Petersburg and was buried at the Blagoveshchensky burial vault of Alexandro-Nevski Lavra (monastery) in St. Petersburg (see our image nr.44).

Back to the "alleged" portrait of Anna Alexandrovna, which was (for the first time) shown in 2003 in St. Petersburg's Russian Museum. We believe that we found the reason why this work is until today considered the portrait of duchesse Serra-Capriola. In it, the depicted lady bears the black sash and cross of Maltese (St. John) Order (in existence since the 11th century), which was introduced in Russia by decree of Tsar Paul I on the 29th of November 1798. Among the (several) ladies-recipients of the "Grand Cross", we find (see our image nr.45 for clips from its recipient list of 1800) "la duchesse de Serra Capriola"...
The sitter in the portrait shown in Russian Museum indeed bears the Grand Cross of the Maltese Order. But which one? One cannot insist that it is its Russian modification. Besides that, in the late 1798, the duchess had to be dressed and hair-styled in an entirely another way - see other female portraits of that period!!

Fazit: the portrait brought to St. Petersburg in 2003 shows not Anna Alexandrovna but another, still unknown woman.

The rain to our parade came with the arrival of the portrait from the auction house: we could finally inspect the (thus far unreadable in auction catalogue) lower line of the artist's signature - "pinxit 1797". This discovery somewhat faltered our "Serra-Capriola" version, for we were now dealing with dates' discrepancy: the date of 1796 listed by D.A. Rovinski and "our" date of 1797.
Whether Rovinski personally (in nature) actually saw the (listed in his book) portrait of Duchess Serra-Capriola appears to be of quite doubtful accuracy to us, taking into consideration the multitude (there were thousands!) of other portraits from various Russian private collections mentioned by him. Or perhaps he was misinformed by then (late 19th-century) portrait's owner, Countess Zavadovskaya (see our image nr.34)? We tend to believe that the last version is correct!
Ludwig Guttenbrunn (ca. 1750/55 Krems, Lower Austria - 1819 Frankfurt am Main) was probably a pupil of well-known Austrian religious painter Martin Johann Schmidt (called "Kremser-Schmidt"), who was living in Krems. In about 1770 Gutennbrunn worked in Vienna. There, he portrayed composer Joseph Haydn (he and the latter's wife had an affaire) and Prince Nicolaus I Esterhazy, who became the artist's first sponsor. In 1771/72 Guttenbrunn made decorations in Esterhazy's new residence Castle Esterhazy by Raab (Györ, Hungary). In 1772, on prince's scholarship, he went to Rome. Guttenbrunn remained in Rome until 1779. There, he established close acquaintances in Rome cultural circles, before all with Goethe (Gutennbrunn's chalk drawing "Goethe in Maskenzug" (English: "Goethe at carnival procession") was formerly housed in Leipzig Collection Friedrich Zarncke), but also with influential art agent Joahnn Friedrich Reiffenstein (he acquired many works for Catherine the Great) and famous German artist Anton Raphael Mengs. In 1779, in Florence, Guttenbrunn became the court artist of Peter Leopold, Grand Duke of Tuscany (and future Holy Roman Emperor Leopold II). In 1783, he was elected a member of the Florence Academy (for his painted in 1782 in Naples "Self-Portrait", now in Uffizi Gallery in Florence). In 1784-1787 he worked in Turin as a court artist of King of Savoya.
In 1787 his friend from Roman period Reiffenstein helped Guttenbrunn with landing a commission to execute encaustic paintings for Red Studio of Catherine II' residence in Tsarskoe Selo. In November of the same (1787) year he arrived to Paris. There, in 1788, he portrayed Marie Antoinette and Dauphin. In 1789 Guttenbrunn went to London, where he in 1790/1795 took part in exhibitions at the Royal Academy.
In 1795, he followed the advice of the Russian Chancelor and became a court artist in St. Petersburg. In 1800 he was elected there a Member of the Academy. Besides St. Petersburg, in his last "Russian" years, Guttenbrunn was also active in Moscow. Between 1804/05 (according to Saur's artist dictionary; other sources refer to 1806 as the year of his departure from Russia) he returned to Western Europe: one could spot him in Dresden, then again in Italy (according to Saur, by 1805 he was already in Rome), where he remained until 1810 (in 1809, in Rome, Guttenbrunn became a Member of the Accademia di S. Luca). From 1817 (and until his death there on January 15th 1819) he lived in Frankfurt am Main.
Today, works of Guttenbrunn can be viewed in most esteemed museums worldwide: Dresden Gallery, St. Petersburg Russian Museum and Hermitage, Moscow Tretyakov Gallery and Pushkin Museum, Castle Trianon in Versailles, museums of London, Dijon, Weimar, Grenoble, Frankfurt am Main, etc.
Our images nr.17-32 offer a deeper insight into the œuvre of Guttenbrunn as portraitist.

CLICK HERE for interesting Russian article about this artist.

midec10ap13
Condition: good
Creation Year: 1797
Measurements: UNFRAMED:42,6x31,5cm/16,8x12,4in FRAMED: 59,5x48,0cm/23,4x18,9in
Object Type: Framed oil painting
Style: Old Master paintings
Technique: oil on mahagony panel
Inscription:
Creator: Ludwig Guttenbrunn
To see other works by this artist click on the name above!
Creator Dates: ca. 1750/55 Krems-1819 Frankfurt am Main
Nationality: Austrian
SHIPPING COSTS UPON REQUEST:
office@wilnitsky.net
Click here for images free of watermark!
Click on images or on

to see larger pictures!