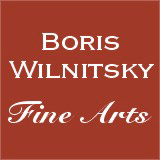 If you have a question about this item,
please contact us at: office@wilnitsky.net
# 39688
Pavel Il'ych Safonoff "Scene from the White Army's "Great Siberian Ice March"", oil, 1922, RARITY!!
Price: EUR
(please note additional Austrian VAT (Value Added Tax) applies for transactions concluded within the European Union)
SOLD!!!

After decades of oblivion (no other works of this artist, except our web our web # 39687 and # 39689, appeared worldwide at art auctions of the past 30 years), this painting unexpectedly resurfaced at the February 21, 2015 sale of US auction house "Clars" in Oakland, California (see our image nr.9).
It shows two sentinels in a snowbound Siberian village, in which the troops of retreating White Army of General Kappel laagered for the night (to read about this army retreat called "Great Siberian Ice March" (December 1919 - February 1920), (CLICK HERE, HERE, HERE, HERE, and HERE).
This painting is a work by one of the eyewitnesses and chroniclers of this great White Army retreat during the Russian Civil War - professional artist and military officer Pavel Il'ych Safonoff.
Pavel Il'ych Safonoff was born on December 30, 1896 into a peasant family living in the village Palekh (famous for its lacquer painters) in Vladimirskaya gubernia. He began studying art as a young boy at the School of Icon-Painting of Trinity Lavra (Monastery) of St. Sergius by Moscow. In 1914-1916, he studied at the Moscow School of Painting, Sculpture and Architecture (MUZhVZ). Then, without completing his studies, he enlisted into the army as volunteer and, after undergoing rapid military training, was promoted to officer's rank and sent to front. There, in West Ukraine, amid battles, he regularly filled his albums with sketches from military life (most of these albums were lost during the "Great Siberian Ice March" of 1919/20).
At the onset of the Civil War, Safonoff joined the White Army and went on to fight against the Bolsheviks along the river Volga and in Siberia. After the final defeat of the White Army in Siberia, the artist (alike thousands of other white officers) immigrated to the neighboring China, settled in Mukden (in China - Shenyang), and obtained a teacher's job in the local drawing school. He plunged himself into the city's peaceful life and immediately proceeded to work on his cycle of oil paintings dedicated to the "Great Siberian Ice March" - a theme that preoccupied him most and that left virtually no space for other subjects, after all the turmoil he experienced during this great retreat. Safonoff was able to show these works to the public at large in 1931: well-known public figure of the Russian Emigration in China, I. I. Serebryannikov, sponsored Safonoff's personal exhibition. In December of the same (1931) year, the artist took part (together with his colleagues V. S. Podgoursky, A. N. Pikulevich, M. A. Kichigin and Ya. L. Lykhonos) in the "Exhibition of Russian Artists") in Shanghai (see our additional image). Still before this exhibition, in autumn of 1931, due to the start of military actions in Mukden (CLICK HERE TO READ ABOUT THE "MUKDEN INCIDENT" IN WIKIPEDIA), the artist moved to Quingdao, where he opened a private drawing school. In summer of 1934, he unexpectedly fell victim to typhoid fever and passed away on July 16, 1934. Safonoff's family immigrated to the US and brought his art works to San Francisco. There, in the 1950s, they were shown at various exhibitions (the three works that we acquired in Oakland were surely among those exhibited).
miapr27ap15
Condition: good
Creation Year: 1922
Measurements:UNFRAMED:37,2x43,1cm/14,6x17,0in FRAMED: 44,9x51,2cm/17,7x20,2in
Object Type:Framed oil painting
Style: Russian Art of the 20th century
Technique: oil on canvas
Inscription:signed and dated: P.Safonoff /1922
Creator: Pavel Il'ych Safonoff
Creator Dates: 1896 village Palekh-1934 Quingdao, China
Nationality:Russian
2-3 days door-to-door shipment, professionally packed by Mail Boxes Etc and shipped with DHL (calculated for US): 194,76 EUR + insurance 1,8% of item price
Shipping cost to other destinations (worldwide) on request
Shipping price may be reduced if you dispense with the frame


Cheaper alternative (may be further reduced if you dispense with the frame): professionally packed by Mail Boxes Etc and shipped with regular Austrian mail - upon request under office@wilnitsky.net (OBS: In this case maximal refunded insurance value is EUR 500 if shipping destination was the US. In Europe sometimes more, depending on destination.)
Click here for images free of watermark!
Click on images or on

to see larger pictures!