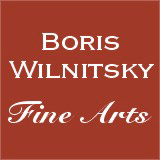 If you have a question about this item,
please contact us at: office@wilnitsky.net
# 42511
Jean-Urbain Guerin-Attrib. "Prince Józef Poniatowski", Outstanding Large Miniature!!, 1810/11
Price: 25000 EUR
(please note additional Austrian VAT (Value Added Tax) applies for transactions concluded within the European Union)
THE SELLER WILL COVER SHIPPING WITH REGULAR MAIL FOR THIS ITEM!

*Framed measurements will be provided upon request.

This large miniature on ivory displays superlative quality of execution.
It shows one of the most famous warlords of the Napoleonic Epoch - Prince Józef Antoni Poniatowski (1763-1813; CLICK HERE). It strongly resembles another portrait of Poniatowski painted by one of Poland's leading portraitists (and miniaturists), Jozef Kosinski (see our image nr.13). However, the miniature presented here is not the latter's work (see below).

Prince Józef Poniatowski is depicted (alike in the portrait of Kosinski) wearing the uniform of a division (note the three stars on his epaulettes) general of Duchy of Warsaw. As in Kosinski's portrait, he bears the orange sash of Prussian Order of Black Eagle (presented to him in 1802), the breast star and chest cross of Grand Cross of Napoleonic Order of Legion of Honor (presented to him in 1809), the breast star of Grand Commander of Polish (then Duchy of Warsaw) Order "Virtuti Militari" (presented to him in 1809), and the white cross of the Prussian (?) St. John (Maltese) Order (presented to him in 1798). Additionally (*absent in Kosinski's portrait), the Prince is shown with the Knight Cross of Royal Order of Both Sicilies (he was awarded it in 1809 by Murat; it is also a very rare model of this cross).

Concerning the author of this portrait:

Initially we considered as a prime candidate one of Paris' greatest, 19th-century miniaturists - Jean-Baptiste-Jacques Augustin (for comparison, see our image nr.18). Nevertheless our friend, world's best specialist in portrait miniatures Dr. Bodo Hofstetter whom we have asked recently means the miniature rather resembles works of Jean-Urbain Guerin, another great portrait miniaturist of that period in France. And really - comparison with most famous work of lattter, portrait of General Kleber (see our image nr.19) convincingly supports Dr. Hofstetter's opinion. Given this attribution is correct, we would automatically imply that this miniature was made by Guerin in 1811, in Paris. Coincidentally, Prince Józef Poniatowski arrived in Paris in April of the same (1811) year as the representative of King of Saxony and Duke of Warsaw, Friedrich August I. Also in Paris, he attended the ceremony marking the baptism of Napoleon's son. He stayed in Paris for the next four months and, together with Emperor and his generals, ran the preparations for the forthcoming campaign against Russia.
Jean Urbain Guerin (1760 Strassburg - 1836 Oberenheim, Alsace) received his first artistic training from his father Christophe Guerin. Afterwards he became a student of Regnault and David and, finally, of Isabey (regardless of the fact that the latter was 7 years younger than Guerin). David had great consideration for Guerin in spite of their very different political opinions. He was also greatly appreciated by Marie-Antoinette, whose portraits he executed, as well as those of Louis XVI. During the Revolution he had occasion to prove his gratitude to Marie-Antoinette. As a member of the Section of the Filles Saint-Thomas of the Garde Nationale, he was in the Tuileries on the 20th June 1792 and courageously protected the Queen. He was banished and only returned to Paris at the time of Consulate. It was at that time that he became a pupil of Isabey. Although he already was a perfect artist, one nevertheless feels the influence of Isabey in certain of his portrait miniatures.
In 1788, Guerin made his debut at the Salon with several miniatures and went on to show his works there regularly until 1827. From 1821 the artist lived in Obernay (Oberenheim) in Alsace.
Provenance: private collection, Milan

We are very grateful to Dr. Hofstetter for his generous help

mijun22ap15
Condition: fairly good: glass is chipped at 3:30 o'clock (artist's joins at both left and right!!)
Creation Year: 1810/11
Measurements:UNFRAMED:16,2x12,5cm/6,4x4,9in
Object Type:Framed miniature
Style: Portrait Miniatures
Technique: watercolor on ivory, laid on card (oval)
Inscription:-
Creator: Jean Urbain Guerin
Creator Dates: 1760 Strassburg-1836 Oberenheim
Nationality:French
We will cover shipping with regular registered mail (delivery between 7-14 days) for this item.

OBS: Austrian mail refunds cases of loss or damage with maximum EUR 500.


Fully insured 2-3 days DHL service available upon request and subject to extra charges: office@wilnitsky.net
Click here for images free of watermark!
Click on images or on

to see larger pictures!