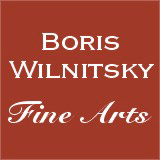 If you have a question about this item,
please contact us at: office@wilnitsky.net
# 42645
Albrecht Adam "Retreat of Grande Armeť from Moscow (November 1812)", important watercolor!!, 1844
Price: 19000 EUR
(please note additional Austrian VAT (Value Added Tax) applies for transactions concluded within the European Union)
*Size of watercolor without mount: 35,5 x 51,5cm.

This very important Napoleonica item was discovered by chance in a Swedish antique shop. It is a watercolor on paper executed (laid onto a larger sheet of paper by the artist and titled by him on lower margin) by great Bavarian horse and battle painter Albrecht Adam.
Albrecht Adam was also the court artist of Napoleon's stepson, Vice-King of Italy, Eugene de Beauharnais, and accompanied the latter in the Russian Campaign of 1812.
The watercolor shows a disastrous retreat of the Grande Armeť from Moscow in the 1st half of November 1812 (a severe cold spell broke in the night of November 7 and escalated in the following days up to -20 degrees Celsius).

According to the signature "AAdam/1844", this watercolor was made in 1844 - the year, which Adam spent almost entirely working on great commission of the son of Eugene de Beauharnais - Maximilian Duke of Leuchtenberg (see our images nr.13-14 and the artist's biography below; the collector's stamp in the lower right corner of the image could have been the one used in the Duke's collection (not in Fritz Lugt's dictionary).
Adam worked up (either in the same (1844) year or shortly thereafter) the watercolor which is presented here, into a partial oil version (with small differences). This version is now on display in St. Petersburg Artillery Museum (see our image nr.15).

In the coming years, Adam was exploring the same subject matter (at least on two occasions): several years later (1852), he executed oil painting "The End /1812" (see our image nr.17) and, in 1854, a monumental painting (as part of Duke of Leuchtenberg's commission delivered to the latter's family already after the latter's death). The latter painting once again (in some details) repeated the composition of our watercolor (see our image nr.14). In 2007, this work "migrated" from a certain German art dealer to Swiss auctioneers "Dobiaschoffsky" and was sold there for hammer price of over $100,000 (see our image nr.16).

The main characters in our watercolor are the cavalrymen in the foreground: dragoon, cuirassier, chasseur-a-cheval and hussar. These men epitomize the degree of mayhem that in November 1812 was spreading with epidemic speed, as the Grande Armeť retreated from Moscow. The dragoon and the cuirassier are in possession of horses from cavalry unit(s) other than their own (the dragoon is pulling the horse saddled with a valise numbered "10" (no Dragoon Regiment number "10" was stationed in Russia in 1812; however, the Cuiraissiers Regiment nr. "10" was!). In contrast, both horses of a cuirassier are saddled with valises, each numbered "15" (similarly, no Cuirassiers Regiment number "15" was engaged in Russian in 1812, but the 15th Dragoons!). Both chasseur-a-cheval and the hussar are unable to find substitutes for their horses and thus forced into a toilsome march on foot.

This panoramic scene also displays a Cossack foray - a typical (virtually daily) occurrence on long marches (see our image nr.26).

Finally, we would like to recommend a captivating documentary novel by Adam Zamoyski - "1812 /Napoleon's fatal march on Moscow", 2004 (CLICK HERE; for excerpts from this book in Russian translation, CLICK HERE; see also our image nr.26).
Albrecht Adam (1786 Noerdlingen - 1862 Munich) was the progenitor of the Bavarian family, four generations of which were active as artists. His artistic career began in Nuernberg. From 1807 he worked in Munich, copying Old Masters in the Royal Museum, in 1809 took part in Napoleon's campaign against Austria. Appointed a royal painter by the Vice King of Italy Eugene Beauharnais, A.Adam lived in Milan from 1809 to 1812. Afterwards he accompanied Beauharnais in his Russian campaign, was eyewitness to all fights and battles of this war. After the Fire of Moscow in 1812 Adam returned to Milan, lived there till 1815, then moved to Munich again. There he continued working as a court painter of Eugene Beauharnais, now Duke of Leuchtenberg. The artist was also active for Bavarian King Maximilian I, worked on commissions of Bavarian high aristocracy. In 1829-1830 he was a royal painter of King Wilhelm of Wuerttemberg in Stuttgart, in 1838 worked in Mecklenburg, then became a royal painter of the subsequent King of Bavaria Ludwig I. In 1839 he obtained an extensive commission from the son of late Eugene de Beauharnais, Maximilian Duke of Leuchtenberg for latter's palace in St. Petersburg (shortly before the Duke had married Russian Grand Dukess Maria Nikolaevna; as a residence the couple received from the bride's father Tsar Nikolai I the Mariinski Palace in the Russian capital). According to this commission the artist had to make sixteen paintings with battles of the Dukes's father, Eugene de Beauharnais. Until 1852 (the Duke's year of death) he delivered thirteen of them (the whereabouts of most of them are unknown today). From 1855-1857 Adam worked at the Vienna court, painting equestrian portraits of the Austrian Kaiser and various horse portraits.
Our images nr.18-25 show several other works of this artist that were offered at the international art auction market in the last years).

minov1618
Condition: watercolor: good condition; mount: fairly good (dot-like foxings)
Creation Year: 1844
Measurements:UNFRAMED:49,0x64,0cm/19,3x25,2in FRAMED: 58,0x73,7cm/22,8x29,0in
Object Type:Framed watercolor
Style: Military paintings
Technique: watercolor on paper, laid onto a larger sheet of paper by the artist
Inscription:signed and dated: "AAdam /1844"; titled by the artist on mount
Creator: Albrecht Adam
Creator Dates: 1786 Noerdlingen-1862 Munich
Nationality:German
SHIPPING COSTS UPON REQUEST:
office@wilnitsky.net
Click here for images free of watermark!
Click on images or on

to see larger pictures!