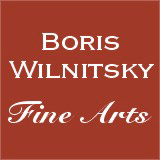 If you have a question about this item,
please contact us at: office@wilnitsky.net
# 42903
Johann Heinrich Schroeder "Luise, Queen of Prussia", important pastel from royal property!, ca 1800
Price: EUR
(please note additional 13% tax applies for transactions concluded within the European Union)
SOLD!!!

Housed in the collection of the Royal House of Hanover (its last owner - Prince of Hanover, London) for over two centuries, it is an extremely important pastel portrait of Luise, Queen of Prussia (1776-1810). It resurfaced at April 10, 2019 sale of Christie's London, and was mistakenly (!!) listed as portrait of Luise's sister, Princess Friederike of Prussia (for her factual portrait painted by the same artist, see our web #26015). This erroneous title allowed us to acquire this exceedingly qualitative portrait (accompanied by another work - see our image nr.15) without the (otherwise tough) auction battle.

This pastel is a very important work of Berlin court artist Johann Heinrich Schroeder, which the latter executed in about 1800. Schroeder had authored several portraits of the Queen. The one in our possession - "Luise in Indian turban" - is one of the artist's own four replicas of the same portrait.

For Queen's Luise's extensive biography and her other portraits, CLICK HERE and HERE
The best German pastelist of the late 18th century Johann Heinrich Schroeder (Schröder) was born in 1757 in Meiningen, Thuringia (which was then residence town of Duchy Saxe-Meiningen). His early work shows the influence of Johann Philipp Bach who may also have taught him. However, by 1778 he had become a pupil of J.H.Tischbein in Kassel where he exhibited two works at "Junge Maler" in the Academy show in 1780: one pastel portrait, the other a Cleopatra after Titian (medium unspecified). He travelled to Hanover (ca. 1780-84), Brunswick (court artist 1785), Frankfurt, Mannheim, Dresden (1786), Kassel (1787, returning in 1804), Berlin (1789-1792 and 1793-1806). His first trip to Berlin was mentioned in a letter from January 1789 of Charlotte, Duchess of Brunswick-Wolfenbuettel to her sister-in-law, Elisabeth Christine, Queen of Prussia.
From 1792-1793 Schroeder was in London, following the marriage of the Prussian Princess Friederike with the Duke of York; there he portrayed the Royal Family and exhibited three portraits of unnamed sitters at the Royal Academy. Returning to Germany via The Netherlands, he made a portrait of Queen Luise of Prussia which was widely copied. He was in Brunswick in 1801 before settling in his home town Meiningen after 1806. There were further trips to Bad Pyrmont (1806) and Karlsruhe (1810-1811). He also executed a series of portraits of the Baden Royal Family in the 1800s.
He died in his native town Meiningen in 1812.
Provenance:
1) Property of the Royal House of Hanover, Castle Marienburg by Hildesheim, Germany (see our image nr.9)
2) Prince Ernst August of Hanover, London

Literature:
1) A. Dorner "Hundert Jahre Kunst in Hannover /1750-1850", München 1932, p.56 (illustrated and erroneously referred to as portrait of Luise's sister, Princess Therese of Mecklenburg-Strelitz)
2) G. Schuster "Königin Luise /Historische Bilddokumente", Berlin 1850, p.72 (illustrated and erroneously described as "Statyra auf dem Maskenball of 1804", refuted before 1995 by Professor H. Börsch-Supan)
3) Marieluise Spangenberg "Der Meininger Porträtmaler Johann Heinrich Schröder /(1757-1812", Meiningen 1995, p.57, cat.no.268

CLICK HERE FOR OTHER WORKS OF THIS ARTIST IN OUR POSSESSION
(we shall add that over the years we have amassed the largest private collection of Schroeder's works worldwide)

mimai2019
Condition: good; in original frame
Creation Year: ca 1800
Measurements:UNFRAMED:50,6x42,2cm/19,9x16,6in FRAMED: 55,3x63,2cm/21,8x24,9in
Object Type:Framed pastel
Style: Old Master drawings
Technique: pastel on vellum (mounted onto stretcher by the artist)
Inscription:-
Creator: Johann Heinrich Schroeder
Creator Dates: 1757 Meiningen-1812 Meiningen
Nationality:German
SHIPPING COSTS UPON REQUEST:
office@wilnitsky.net
Click here for images free of watermark!
Click on images or on

to see larger pictures!