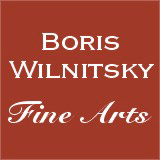 If you have a question about this item,
please contact us at: office@wilnitsky.net
# 42907
Johann Heinrich Schroeder "Portrait of Baroness Sophie von Bergh", superb pastel!!, 1797/98
Price: 8000 EUR
(please note additional 13% tax applies for transactions concluded within the European Union)
This superior quality pastel portrait shows a young lady, who is dressed and hairstyled according to fashion of the second half of 1790s. We acquired it at the auction house "Lempertz" (Cologne) as "portrait of an unknown woman". During the sale, however, the auctioneer did mention the inscription on verso of the portrait (namely on the frame's back cover) referring to the portrayed woman (so auctioneer) as "Sophie von Berk (sic!) geb. Grafin N…". Additionally, in its listing of the portrait, the auction house carefully suggested that it could be "Attributed to Johann Heinrich Schroeder".
Over a number of years, we have been fortunate to amass the largest private collection of Schroeder's works worldwide, and were thus at once adamantly convinced of the portrait's authenticity. Indeed, it turned out to be a very typical work of Schroeder (for example, CLICK HERE FOR OTHER WORKS OF THIS ARTIST IN OUR POSSESSION).

Yet, one asks, who was this Sophie von Berk, nee Countess N…?

While waiting for the portrait to be delivered, we began our usual Web research, and very soon established the identity of this woman.

Her full name was Sophie Josephine Ernestine Wilhelmine Countess von Neale. She was born in 1780 as the daughter of Prussian King's "Kammerherr" (Chamberlain), councilor and "Ober-Mundschenk" (chief cupbearer), as well as member of the Royal Academy of Arts, Ferdinand Ludwig Karl Heinrich Maximilian Count von Neale (1754-1828) and his wife Eleonore Auguste Josine, nee von Keller.
Sophie had (presumably elder) brother August Graf von Neale and sister Pauline Countess von Neale (1779-1869), who was one year older. The latter was a maid-of-honor of Princess Luise Friederike Radziwill, nee Princess of Prussia.
Alike her elder sister, Sophie also became a maid-of-honor and served another Prussian royalty - Princess Heinrich von Preussen (Princess Wilhelmina of Hesse-Kassel (1726-1808), wife of Prince Heinrich von Preussen (for her biography, see our image nr.11)).
Although the exact date of Sophie's marriage is unclear, it seems very likely that she became a married woman shortly after this portrait was made. Her husband - Christian Karl Maximilian Maria August Freiherr (Baron) von Bergh - was a retired Hessian major, a widower and a longstanding gentleman-in-waiting of aforementioned Princess Heinrich von Preussen. He was considerably older than Sophie.
Their marriage produced a son - Camill Alfred Freiherr von Bergh - who later became a Prussian Guards Officer.
Sophie died in Potsdam in 1870 at the age of 90.

After receiving this pastel, we removed the cardboard backing from its verso and were thrilled to discover on painting's original stretcher (the artist had originally mounted the pastel on vellum onto a stretcher) the authentic legend confirming all our findings and providing the factual name of the portrayed woman (see our image nr.6).
The best German pastelist of the late 18th century Johann Heinrich Schroeder (Schröder) was born in 1757 in Meiningen, Thuringia (which was then residence town of Duchy Saxe-Meiningen). His early work shows the influence of Johann Philipp Bach who may also have taught him. However, by 1778 he had become a pupil of J.H.Tischbein in Kassel where he exhibited two works at "Junge Maler" in the Academy show in 1780: one pastel portrait, the other a Cleopatra after Titian (medium unspecified). He travelled to Hanover (ca. 1780-84), Brunswick (court artist 1785), Frankfurt, Mannheim, Dresden (1786), Kassel (1787, returning in 1804), Berlin (1789-1792 and 1793-1806). His first trip to Berlin was mentioned in a letter from January 1789 of Charlotte, Duchess of Brunswick-Wolfenbuettel to her sister-in-law, Elisabeth Christine, Queen of Prussia.
From 1792-1793 Schroeder was in London, following the marriage of the Prussian Princess Friederike with the Duke of York; there he portrayed the Royal Family and exhibited three portraits of unnamed sitters at the Royal Academy. Returning to Germany via The Netherlands, he made a portrait of Queen Luise of Prussia which was widely copied. He was in Brunswick in 1801 before settling in his home town Meiningen after 1806. There were further trips to Bad Pyrmont (1806) and Karlsruhe (1810-1811). He also executed a series of portraits of the Baden Royal Family in the 1800s.
He died in his native town Meiningen in 1812.
Provenance: personal property (heirloom) of Saxonian War Minister Gustav Count von Nostitz-Wallwitz (1789-1858) with seat in Castle Schweikerschain by Waldheim, Saxony (lastly mentioned in 1903)

mimai2119
Condition: good, in original gilded Neoclassical frame
Creation Year: 1797/98
Measurements:UNFRAMED:32,2x25,5cm/12,7x10,0in FRAMED: 42,0x35,3cm/16,5x13,9in
Object Type:Framed pastel
Style: Old Master drawings
Technique: pastal on pergmanet, painted in oval on rectangular vellum sheet; mounted onto stretcher by the artist
Inscription:verso is inscribed: "Sophie von Berk geb. Gräfin N..."
Creator: Johann Heinrich Schroeder
Creator Dates: 1757 Meiningen-1812 Meiningen
Nationality:German
SHIPPING COSTS UPON REQUEST:
office@wilnitsky.net
Click here for images free of watermark!
Click on images or on

to see larger pictures!