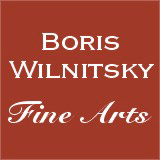 SALE!!! SAVE MONEY !! 1 EUR = 1 USD
# 42950
Borovikovski-School "Portrait of Goriainov family (?)", important Russian miniature!!, 1800
11000 EUR
FINAL DISCOUNT PRICE= 11000 USD
( for EUR price see date rate )
Please note: Shipping and insurance costs are not included in this promotion, ONLY ITEM PRICES!
(please note additional 13% tax applies for transactions concluded within the European Union)
THE SELLER WILL COVER SHIPPING WITH REGULAR MAIL FOR THIS ITEM!

This (unquestionably Russian) miniature on ivory shows a group portrait of a married couple and their three little children. Based on the sitters' dresses and hairstyles, it was painted at the turn of the 19th century (in any case, not before 1799 - see below).

The main character here is clearly the head of the family. He is a "pochiotny kavaler" (honorary knight) of the (established by Paul I in November 1798) Russian Order of St. Ioann of Jerusalem (Maltese Order).
He is shown wearing a dark-blue "siurtuk" (surtout or frock-coat) with a "vitsmundir" (everyday) uniform of the Maltese Order underneath it; note its red-and-black collar, lapel and cuffs; worn daily, this military attire lacks the (otherwise common for Maltese Order gala-model) collar- and cuff embroidery. On close examination, one gets a glimpse of a single epaulette (obligatory for the Order's knights, but not commanders!) on his right shoulder, which is concealed underneath the frock-coat.
In the buttonhole of his coat, there is a miniature white-enameled, silver Knight's cross (see also our comparison image nr.26). Its obligatory black ribbon had been complemented by several light beams by the artist, in order to highlight it against the black background (the uniforms lapel).
One can see the similar cross and ribbon in the miniature portrait of P.I. Priklonski from Yelagin Palace (St. Petersburg; see our image nr.9).
In attempt to identify this Knight, we turned to the (available on the Web) partially (sic!) surviving award certificates of the St. Ioann of Jerusalem Order recipients from the period between 1799 and 1801 (i.e. the very same period we discuss here). After several hours of studying the list of recipients' names (particularly the biographies (wherever available (sic!!) - CLICK HERE) of the Order's civil knights (not commanders and/or military persons!), we discovered a man, whose criteria fully corresponds to our proposed search: the prospective candidate(s) we searched for, had to have had at least three children in the aforementioned period, whereupon their age had to correspond to that of the children in "our" portrait.
The name of this man was Alexei Alexeevich Goriainov - a nobleman, "statski sovetnik" (state councilor) and the Vice-Governor of Yaroslavskaya Gubernia. He received his Honorary Knight's Cross of St. Ioann of Jerusalem on April 15, 1800, at the age of 48. By then, he was (from 1780s) married and father of several children. His wife, Matryona Ivanovna, nee Malygina, was thirty seven years old in 1800. The three (then youngest) children of the couple could very well be regarded as the children in this portrait:

Son Alexei (1793-1863); in 1800, he was seven years old (the boy on the mother's left)
Son Sergei (1797-1860); in 1800, he was three years old (the boy on the mother's right)
Daughter Sophia (born in 1798/99); in 1800, she was a toddler of 1-1,5 years old (the little girl offering flowers to her mother)

Alexei Alexeevich Goriainov was born in 1752, at the family estate of Troitsa-Nariadovo in Rostovski Uezd, Yaroslavskaya Gubernia. He was the son of a retired "podporuchik" (2nd lieutenant) Alexei Goriainov (d. 1763).
In 1766, he joined the Artillery Engineer School in rank of a cadet. In 1773, after reaching the rank of "poruchik" (1st lieutenant), he left military service.
Six years after retiring from the military, Goriainov began his civil service (December 1779): he was employed as an accessor of the Crime Court of Yaroslavskoye "namestnichestvo" (vice-regency). On January 29, 1781, he was raised in rank to a collegial assessor and sometime later became a state councilor.
On December 15, 1798, he became a Vice-Governor of Yaroslavskaya Gubernia and remained in this function until May 1, 1800 (i.e. two and a half weeks after receiving the Maltese Order).
On July 12, 1800, he was raised in rank to "deistvitelny statski sovetnik" (actual state councilor) and became the Governor of Vologodskaya Gubernia. He served there until his retirement in 1806. After leaving the civil service, Goriainov lived at his estate Troitsa-Nariadovo (85km from Yaroslavl and 165km from Moscow), where he passed away in May of 1826. He was laid to rest at the local Troitsa (Trinity) Church cemetery (it had been since destroyed; see our image nr.15). In 1818, Alexei Alexeevich' daughter Vera Alexeevna (1790-1867) was married at the same church (she was the eldest sister of the children in "our" portrait). She married the future "Decembrist" Artamon Zakharovich Muraviov.

Matryona Ivanovna Gorainova (the lady in the portrait) was born in 1763 as the daughter of "podporuchik" Malygin. She died in 1838 in St. Petersburg, where she is known to have settled after her husband's passing. She was buried at Tikhvin Cemetery of Alexander Nevsky Lavra. In sum, Matryona Ivanovna and Alexei Alexeevich had twelve children. Her daughter Vera Alexeevna Muraviova (see above) was buried next to her mother in 1867.

The couple's son (he is the boy in the portrait's left area), Alexei Alexeevich Goriainov, was in rank of a "poruchik", when (in 1812) he fought in the battles of Smolensk (wounded), Borodino, Tarutino, Maloyaroslavets. In 1813, he was again wounded in a battle by Koenigsberg.
In 1817 (by then, he held a rank of a Guards captain) he was invalided out of the army in rank of a lieutenant colonel. Later on, he became a "Kammerherr" (chamberlain) and a privy councilor.
He owned two villages in Rostovski Uezd. His son (also Alexei Alexeevich) became a general and Governor of Penzenskaya Gubernia.

The couple's other son (he is the boy in the portrait's right area), Sergei Alexeevich, alike his father, also made a career of a state official: he too became a "deistvitelny statski sovetnik". He was also a serf owner in possession of 703 serfs, owned a sugar factory and a weaving mill (his wife's dowry); additionally, he was a landowner with possession of Village Brat'kovo in Odoevski Uezd.
Sergei Alexeevich was married twice: his first wife was Sophia Vasilevna Gur'eva (1803-1831); his second wife - Nadezhda Levitskaya.
Our image nr.17 shows his portrait from the 1850s: one cannot help but notice his remarkable resemblance to his parents in "our" portrait.

The daughter - Sophia Alexeevna - married Nikolai Michailovich Islen'ev (1790-1840). In 1818, she gave birth to their first child - daughter Yulia (later Bulgakova in her marriage).
Sophia Alexeevna died in 1847. Her husband was a retired "poruchik". In January 1826, he was arrested in Moscow as an alleged member of the Decembrist secret society, yet released after ten days in confinement.

Unfortunately, individual portrait(s) of neither Alexei Alexeevich, nor his wife Matryona Ivanovna, have been known to survive. We have come across some sources on the Web informing that until 1919, their daughter - Lyubov Alexeevna Goriainova (b. 1801; married Karnovich) - kept at her estate Piatnitskaya Gora in Yaroslavskaya Gubernia watercolor portraits of her family (among them, a portrait of her mother and her brother Alexei). The whereabouts of these watercolors are, thus far, unknown.
Nonetheless, the comparison of known portraits of Vera Alexeevna Muraviova (see our image nr.16) and Sergei Alexeevich Goriainov (once again, see our image nr.17) with facial features of the parents in "our" miniature convincingly speaks in favor of our attribution.

We would like to add that, in the period between May 1 and July 12, 1800 (see above), A. A. Goriainov and his family highly likely stayed in St. Petersburg awaiting his next appointment (Governor of Vologodskaya Gubernia). We believe, hence, that this wonderful portrait was painted during these few weeks in the Russian capital…

This miniature strongly resembles works of Russia's best portraitist working at the turn of the 19th century - Vladimir Lukich Borovikovski (see our comparison images nr.18-21). However, keeping in mind that Borovikovski had barely worked in technique of miniature painting on ivory (apart from two or three known miniatures), we believe that this group portrait was rather painted by one of his St. Petersburg pupils. We have considered first and foremost Ivan Semenovich Bugaevski-Blagodarny (1773-1859/60; see our images nr.22-25). Our other choice would have been Kirill Ivanovich Golovachevsky (1735-1823).
The famous Russian portraitist and historical painter Vladimir Lukich Borovikovski (1757 Mirgorod, Ukraine - 1825 St. Petersburg) was originally an officer. He quit in 1775, dedicated himself to painting pictures of saints, which he learned from his father, and painted iconostases in the churches of Mirgorod. Empress Catherine the Great viewed his works on her journey through Ukraine to Crimea and invited the artist to continue his education in St.Petersburg, where he turned to portrait painting, trained by Dimitri Levitski. But his very best teacher became Italian-Austrian portraitist Johann Baptist Lampi, who lived in St.Petersburg from 1790. In 1794 at Lampi's request Borovikovski was appointed a member of St.Petersburg Academy. He soon became a portrait painter of the royal family and Russian high aristocracy and remained in great demand as portraitist until his death in 1825.
Provenance: private collection, Vienna

mijun1719
Condition: fairly good
Creation Year: ca 1800
Measurements: UNFRAMED:7,4x7,4cm/2,9x2,9in FRAMED: 13,5x10,5cm/5,3x4,1in
Object Type: Framed miniature
Style: Portrait Miniatures
Technique: watercolor on ivory (round)
Inscription: -
Creator: Vladimir Lukich Borovikovski
To see other works by this artist click on the name above!
Creator Dates: 1757 Mirgorod, Ukraine-1825 St. Petersburg
Nationality: Russian
We will cover shipping with regular registered mail (delivery between 7-14 days) for this item.

OBS: Austrian mail refunds cases of loss or damage with maximum EUR 500.


Fully insured 2-3 days DHL service available upon request and subject to extra charges: office@wilnitsky.net
Click here for images free of watermark!
Click on images or on

to see larger pictures!