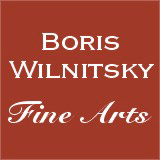 If you have a question about this item,
please contact us at: office@wilnitsky.net
# 42973
Johann Christian Ludwig Algenstaedt-? "Portrait of Count Nikolai Alexandrovich Tolstoi", 1791
Price: 3900 EUR
(please note additional 13% tax applies for transactions concluded within the European Union)
THE SELLER WILL COVER SHIPPING WITH REGULAR MAIL FOR THIS ITEM!

According to the authentic old legend on verso of this work (and the comparison with other early portraits of this man - see our images nr.8-10), we are dealing here with (possibly the earliest) portrait of young (here, aged 26) Russian aristocrat and courtier, Graf (Count) Nikolai Alexandrovich Tolstoi.
He was born on February 9, 1765, into a highly aristocratic Russian family: his great-grandfather was an associate of Peter I.
Upon his birth, Graf Tolstoi was ascribed into the Life Guards Semenovski Regiment (by the age of 20, he was already in rank of a captain). He was appointed into the retinue of Grand Duke Alexander Pavlovich and - over time - proved himself worthy of the fondness and trust of not only Alexander, but also of Empress Catherine II and Duke father's - Crown Prince Pavel Petrovich.
On May 10, 1793 (sic! i.e. two years after this portrait was executed), he was raised in rank into a "Kammerherr" (chamberlain) and - soon thereafter - appointed "hofmarshal" of Alexander Pavlovich's Court. On the day of his accession to the throne (April 5, 1797), Paul I bestowed Count Tolstoi with 600 serfs. Additionally, in 1799, he presented him with orders of St. Anna of the 1st class (March 11) and St. Alexander Nevski (May 29).
At the onset of the reign of Alexander I, Count Tolstoi's status became further solidified. He enjoyed the (unprecedented) 13 years of privilege of unrestricted entrance into the Emperor's quarters and was the latter's all-time companion.
In 1787, Count Tolstoi got married to Anna Ivanovna Bariatinskaya (1772-1825), with whom he had two sons and a daughter.
After he passed away on December 9, 1816, in Dresden, his body was brought back to Russia and buried at the Alexander Nevsky Lavra in St. Petersburg (see our image nr.12).

Our miniature is signed (see our image nr.5) with illegibly written Latin monogram and the date of 1791. The monogram could be interpreted as "...(?).A".. After performing a thorough research of (all available) Russian reference sources pertaining to miniature painters, whose name began with the letter "A", and who were working in St. Petersburg in that period, we were able to locate only one candidate - German miniaturist Johann Christian Algenstaedt (Algenstädt). Also, the octagonal shape of this artist's other miniatures (see our images nr.13-14) is another supporting factor to our assumption of his authorship.
Johann Christian Ludwig Algenstaedt was born in 1752 in Prussian town Landsberg and der Warthe (now - Gorzów Wielkopolski, Poland); the artist is known to have been still alive in 1819. He clearly spent some time in Russia, and his miniature portrait of Princess Varvare Ivanonva Golitsyna is the evidence of it (see our image nr.13); it is housed in the collection of Moscow State Historical Museum (one learns from the museum's catalogue that portrait of Golitsyna was produced by Algenstaedt at least twice). The chances of the both replicas' execution during Princess Golitsyna's visit to Germany are virtually nonexistent: it is rather unlikely that a Russian aristocratic lady would order her portrait from a lesser known, small-town artist from Prussia. On the contrary, it was much more likely that an artist of Algenstaedt's caliber would move to Russia in search wealthy clientele.
We would like to add that Algenstaedt had a younger brother, who was also a miniaturist - Carl Friedrich Algenstaedt, who was, however only three years old at the time of this miniature's execution (he was born in 1788).
Provenance: private collection, Sweden

mijun2619
Condition: fairly good
Creation Year: 1791
Measurements:UNFRAMED:5,0x5,0cm/2,0x2,0in FRAMED: 13,8x13,2cm/5,4x5,2in
Object Type:Framed miniature
Style: Portrait Miniatures
Technique: watercolor on ivory (octagonal), laid on mount
Inscription:illegibly monogrammed and dated 1791 (see image nr.5)
Creator: Johann Christian Ludwig Algenstaedt
Creator Dates: 1752 Landsberg-after 1819
Nationality:German
We will cover shipping with regular registered mail (delivery between 7-14 days) for this item.

OBS: Austrian mail refunds cases of loss or damage with maximum EUR 500.


Fully insured 2-3 days DHL service available upon request and subject to extra charges: office@wilnitsky.net
Click here for images free of watermark!
Click on images or on

to see larger pictures!