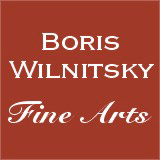 If you have a question about this item,
please contact us at: office@wilnitsky.net
# 43170
Joh. Heinrich Schmidt (1779-1829) "Louis Hercule Timoléon de Cosse-Brissac", important pastel, 1776/80
Price: 6500 EUR
(please note additional Austrian VAT (Value Added Tax) applies for transactions concluded within the European Union)
Offered in October 2019 at one of the German auction houses as a portrait of an unknown nobleman by an unknown artist it was immediately recognized by us (and consequently acquired) as an absolutely authentic and very typical work of one of the best German pastelists of the late 18th century, Johann Heinrich Schmidt (being in possession of several works of his we are very well acquainted with his manner; also CLICK HERE).
Moreover, it is an extremely rare and important portrait of one of the most known victims of the French Revolution, Louis Hercule Timoléon de Cosse-Brissac, Duke de Brissac (see our images nr.6-7). He is depicted as just having been awarded the French Order of Saint-Spirit - blue sash over the right shoulder (promotion of the 26th of May 1776). Either he posed for this portrait during his visit (shortly after the awarding) to Dresden where (according to the artist's biography (see below)) Johann Heinrich Schmidt lived supposedly since 1775 or (what seems more plausible!) the artist either still stayed in Paris in the summer of 1776 or returned there from Dresden.
The comparable portrait of Duke de Brissac - that by Francois-Hubert Drouais (see again our image nr.6) - was made several years before - Drouais died in 1775.

Duke de Brissac was born on February 14th 1734 in Paris as the second son and eventual heir of Jean Paul Timoléon de Cossé Brissac, 7th Duke of Brissac, who was a French general and owner of Château de Brissac (CLICK HERE).
One of the most prominent men at the courts of Louis XV and Louis XVI, he was a Grand Panetier of France, governor of Paris, capitaine colonel of the Cent-Suisses of the Garde du Roi, and a knight in various orders.
In his later years he became fond lover of Louis XV's last mistress Madame du Barry who was still very beautiful in her late forties.
In 1791, he became commander in chief of the King's Constitutional Guard. On 29 May 1792, the Assembly dissolved this corps, suspecting it of royalist and counter-revolutionary sympathies and accusing Cossé-Brissac of encouraging this and writing a speech ordering his men to go over to the king. He was sent to prison in Orléans to await judgement by the high court before being transferred to Versailles, but the prisoners were separated from their escort and freed by a group of bandits.

He was killed in the 9 September massacres, and his body was mutilated, and his head was thrust in a pike (see our image nr. 8) and taken on foot by a band of his killers and thrown into a window of Madame du Barry's apartment, at which sight she fainted. With little spirit but much force and courage, he held off his murderers for a long time, receiving several wounds before finally being cut down by a sabre. Always distinguished for his devotion to Louis XVI, he replied to someone praising him for his conduct: "I only do what I must do for my ancestors and my family". He is mentioned in the fifth verse of Jacques Delille's poem la Pitié, and anecdotes on him are to be found in Paris, Versailles et les provinces.

Louis-Hercule de Cossé-Brissac married in 1760 to Diane-Hortense Mancini-Mazarini (1742-1808), great-great niece of Cardinal Mazarin, and they had two children:
Adélaïde (1765-1820), married in 1782 with Victurnien-Jean-Baptiste de Rochechouart, duc de Mortemart
and
Jules Gabriel Timoléon (1771-1775), died during childhood.

After the death of Louis-Hercule in 1792 without a living male-line descendant, the ducal title passed to Timoléon de Cossé-Brissac (1775-1848). He was the eldest son of Hyacinthe-Hugues de Cossé-Brissac, Duke of Cossé (1746-1813), whose father was René-Hugues de Cossé-Brissac, Count of Cossé (1702-1754). René-Hugues was the third son of Artus de Cossé-Brissac, 5th Duke of Brissac (1668-1709). After Timoléon de Cossé-Brissac died in 1848, the title of Duke of Brissac was held by his successive descendants in the male line.



The author Johann Heinrich Schmidt (1749 Hildburghausen - 1829 Dresden) was a pupil of his father, court painter of Duke of Saxe-Hildburghausen, Johann Thomas Schmidt (d. 1790). In 1771-1773, he also studied under J.-B. Pierre at the Parisian Academie Royale. Thereafter, he moved to Turin, where he portrayed the wife of Count Artois (the future King Carl X of France). Back in his native Germany, in 1775, Schmidt became a court painter in Dresden, and was appointed a member of Dresden Academy. From Dresden he made trips to Prague, Vienna, Berlin and other German cities. During a long stay in Berlin he married in 1779 a young and beautiful widow from the Lower Saxony. Afterwards, he travelled to Kurland (present-day Latvia) and Lievland (Lithuania), where he similarly stayed a long time. In 1784, the artist relocated to St. Petersburg and remained there for two years. In Russian capital Schmidt found a truly generous patroness in Grand Duchess Maria Fedorovna, the wife of Catherina the Great's son, Grand Duke Paul (the future Tsar Paul I of Russia).
Russian art historian E.G. Perova in her book "Pastel. History. Technique. Restoration. Attribution." (published in Moscow in 2006) presents a list of surviving "Russian" pastel portraits of J.H. Schmidt. She adds that in St. Petersburg, Schmidt was a quite expensive portraitist, who painted exclusively on vellum (a rather costly material in that time). She claims that, today, the majority of J.H. Schmidt's existing works are in Russia (there are in sum as many as seventeen (!) of his works housed in State Historical Museum, State Tretyakov Gallery, State Hermitage and in Moscow Pushkin Museum). In St. Petersburg, the artist's sitters were mainly members of various noble families such as Razumovsky, Protasov, Saltykov, etc. He also portrayed Generalissimo Alexander Vasilievich Suvorov (1800).
Further in her book, E.G. Perova implies that J.H. Schmidt painted not particularly large (in height no more than 30 cm) portraits on vellum. They had oval, tondo, rectangular of octagonal form. They were shoulder-length portraits with a slight turn (sic!), face - nearly full-face… "He used to add some bright accents to his portraits (for example, blue sashes in portraits of Sophia Osipovna Apraksina and Natalia Vladimirovna Saltykova)", adds Perova.
After returning to Germany, the artist frequently revisited Vienna and Prague, yet his permanent residence was in Dresden.
Condition: good; in original frame
Creation Year: 1776/80
Measurements:UNFRAMED:47,5x38,8cm/18,7x15,3in FRAMED: 53,7x45,3cm/21,1x17,8in
Object Type:Framed pastel
Style: Old Master drawings
Technique: pastel on paper (laid on canvas by the artist and mounted on stretcher)
Inscription:-
Creator: Johann Heinrich Schmidt
Creator Dates: 1749 Hildburghausen-1829 Dresden
Nationality:German
2-3 days door-to-door shipment, professionally packed by Mail Boxes Etc and shipped with DHL (calculated for US): 176,35 EUR + insurance 1,8% of item price
Shipping cost to other destinations (worldwide) on request
Shipping price may be reduced if you dispense with the frame


Cheaper alternative (may be further reduced if you dispense with the frame): professionally packed by Mail Boxes Etc and shipped with regular Austrian mail - upon request under office@wilnitsky.net (OBS: In this case maximal refunded insurance value is EUR 500 if shipping destination was the US. In Europe sometimes more, depending on destination.)
Click here for images free of watermark!
Click on images or on

to see larger pictures!