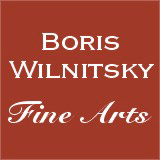 If you have a question about this item,
please contact us at: office@wilnitsky.net
# 43225
Louis Leopold Boilly (1761-1845) "Matvei Ivanovich Platov", important listed portrait, 1814
Price: 19000 EUR
(please note additional Austrian VAT (Value Added Tax) applies for transactions concluded within the European Union)
Unexpectedly, in the night of January 29/30, 2015, while examining the Web, we came across one very important Russian portrait. According to the Web site information, in the next ten hours this work was scheduled to be sold in small English town Tring (see provenance below). Naturally, we were falling short of hope and expectations of establishing contact with the auction house on such quick notice. However, on that very night, we decided to send them an email, asking for a (bidding) telephone line during the next day's auction.
And, wondrously, next day, the auction house called us for bidding on the aforementioned lot. In the end, the bidding turned out (as it is these days often the case, when it concerns rare Russian items resurfacing at different auctions worldwide) to be a ten-minute "fight" with remote opponents. Finally, we won this bid, purchasing the portrait for the sum exceeding the start price by thirty times.

Hence, we acquired a work, which was thus far absolutely unknown to art historians. Painted in Paris, in second part of July of 1814 to be presented to one of the sitter's new English friends (he just returned from short trip to London), it is a small portrait of famous Russian general, Ataman (Hetman) of Don Cossacks, Matvei Ivanovich Platov (1751-1818; CLICK HERE, HERE, and HERE; see also our images nr.8-10).

This small (its size of 22,4x16,5 cm is absolutely typical for its author - SEE BELOW!) oil painting bears along the upper age authentic (made by artist just after the completion of portrait) French inscription , "Donne par le General Comte Platoff á son ami Lewis Goldsmith le 20 j.llet 1814" (English: presented by General Platov to his friend Lewis Goldsmith on July 20, 1814".

As it is known, on June 7 (others sources say June 6), 1814, one week after the signing of the Treaty of Paris, Tsar Alexander I of Russia and King Friedrich Wilhelm III of Prussia (both with extensive retinues) arrived to London for talks, as well as for events celebrating the victory over Napoleon. Tsar Alexander was accompanied (among others) by "our" General Matvei Ivanovich Platov. The latter (he remained in London some longer than the Tsar, who, due to frictions with Prince Regent George, left England in 19 days) was received euphorically by the English (viewed as an extraordinary exotic person, Platov was also notorious for being the chief of wild and fearsome Cossack Hordes!). The 80-gun-ship "Count Platov" was set afloat in his honor. As a memento of his visit, the women were cutting strings of horsehair from his mount's tail (later on Platov will present this animal to Prince Regent). The highborn ladies, in turn, were inviting him to baptize their newborn. Additionally, Platov daily visited theaters, balls and aristocratic salons (often several in one day!). Prince Regent bestowed him with his personal, diamond clad, miniature portrait, and the City Council of London - a special, honorary sword. Moreover, uneducated Platov was awarded the honorary doctorate degree by the Oxford University.

It is known that in those days, besides making acquaintances with numerous English royalties, aristocrats, politicians, and members of the military, Platov met writer Walter Scott and poet Lord Byron. Surely, there were other (also non-aristocratic!) representatives of the London society, with whom Platov shared close ties in that period.

We see now that besides making acquaintances with Scott and Byron, Ataman Platov met the (very well known in London and across the whole of Europe!) publicist of Jewish descent, Lewis Goldsmith (who would have thought that Don Cossack Platov could ever befriend (note his addressing Goldsmith as "ami" (friend)) such person?!).
Lewis Goldsmith (1763-1846; see our images nr.13-14), once Napoleon's ardent supporter (CLICK HERE), was now his vigorous enemy. His name was proverbial for many Russians arriving to London, for Goldsmith's anti-Napoleonic pamphlets were reaching as far as St. Petersburg. Possibly, the two men were introduced to each other by the ataman's old friend, British General Sir Robert Wilson ("Brother Wilson", as Platov called him), with whom the ataman was inseparable in those days…


Back in July 1814 in Paris (some Russian sources erroneously imply that after the London stay he at once returned to his homeland (on the contrary Platov remained attached to field army for another year and in sommer of 1815 once again marched with his Don Cossacks into Paris)) Platov posed for discussed here small portrait which was completed on 20th July, bore aforementioned deducation and obviously was just thereafter presented to general's new friend, Lewis Goldsmith who (as we suppose) accompanied Platov at latter's comeback from England to Paris.

But who was this artist whose Paris studio visited in July 1814 Ataman Platov?

Two and half months after our acquisition, on 14th April 2015, at London auction house "Bonhams" resurfaced... another author's replica of our portrait (see image nr.11): obviously this replica was ear-marked for similiar purpose - to be presented to another person from general's new English acquitances; it has almost the same size (20,5x15,5 cm). "Bonhams" expert ascribed it to an artist from circle of famous Parisian portraitist of that period, Louis Leopold Boilly. This opinion was surely based on extremely strong resemblance with works of latter and (what is not less important!) on typical for Boilly size of painting - almost all portrait works of artist have sizes in similiar range: height varies between 21,5-22,5 cm, width - between 16,5-17,5 cm.

We have examined immediately the known portraits by Boilly and found quite soon portrait of another Russian warlord, staying in Paris in summer of 1814 - General-Field-Marshal Pierre (Piotr Christianovich) Wittgenstein (see our image nr.12). Comparison with this painting takes off all remaining questions - our "Ataman Platov'" was also painted by Louis Leopold Boilly.
MOREOVER, ART HISTORIANS ETIENNE BRETON AND PASCAL ZUBER INCLUDED THIS PORTRAIT IN THEIR RECENTLY PUBLISHED BOILLY'S CATALOGUE RAISONEE (see our image nr.15).
Louis-Leopold Boilly (1761 La Bassée - 1845) was a French painter. A number of his paintings vividly document the French middle-class social life of his time.
Boilly was born in La Bassée in northern France but moved to Arras at the age of seventeen to receive instruction in "trompe l'oeil" painting from Dominique Doncre (1743-1820). Seven years later Boilly moved to Paris where he exhibited in the Salon between 1791 and 1824 - receiving a gold medal in 1804.
In 1794, Boilly was condemned by the Comite de Salut Public, at the height of Terror, for the erotic undertones of his work. This offence was remedied by an eleventh-hour discovery in his home of the more patriotic Triumph of Marat (Musee des Beaux Arts, Lille) which saved him from serious penalties.
Boilly's early works tended towards a preference for amorous and moralising subjects. The Suitor's Gift is comparable to much of his work in the 1790's. His small-scale paintings with carefully mannered colouring and precise detailing recalled the work of Dutch seventeenth-century genre painters such as Gabriel Metsu (1629-1667), Willem van Mieris and Gerard ter Borch (1617-1681), of whose work Boilly owned an important collection. After 1794, Boilly began to produce far more crowded compositions that which serve as social chronicals. Boilly was also well respected for his portraiture, producing many portraits of the middle classes and other famous contemporaries.
Provenance:
-"Tring Market Auctions", County Herfordshire / England, sale on January 30, 2015, lot 326

mimar30ap15
Condition: good; in original Empire frame
Creation Year: 1814
Measurements:UNFRAMED:22,4x16,5cm/8,8x6,5in FRAMED: 33,8x28,5cm/13,3x11,2in
Object Type:Framed oil painting
Style: 19th century Russian paintings
Technique: oil on canvas
Inscription:dedication to Lewis Goldsmith written in French
Creator: Louis-Leopold Boilly
Creator Dates: 1761 La Bassée-1845
Nationality:French
SHIPPING COSTS UPON REQUEST:
office@wilnitsky.net
Click here for images free of watermark!
Click on images or on

to see larger pictures!