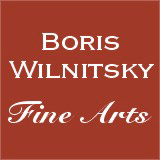 If you have a question about this item,
please contact us at: office@wilnitsky.net
# 43502
"Portraits of Mrs. Benson: as a child and as a wife", two miniatures (one by S. J. Rochard), 1810/30
Price: 1650 EUR
(please note additional Austrian VAT (Value Added Tax) applies for transactions concluded within the European Union)
THE SELLER WILL COVER SHIPPING WITH REGULAR MAIL FOR THIS ITEM!

Two miniature portraits of the same person painted by two different artists at different stages of her life - as a little girl and as a young married lady. According to authentic legends on verso of each miniature, the name of this person was Amelia, daughter and the only child of John Dyer, Esq., from 1827 - wife of Ralph Benson, Esq., who was, in turn, the youngest son of Reverend Ralph Lewin Benson, in 1799-1849 Rector of Easthope in Shropshire. Amelia died in 1873.

The "adult" miniature is a very typical work of well-known miniaturist Simon Jacques Rochard (compare with our web # 42269).
While still a child, Simon Jacques Rochard (1788 Paris - 1872 Brussels) drew crayon portraits in order to support his widowed mother and his twelve siblings. He studied engraving under Ransonnette senior and Desnoyers, and miniature painting under Mlle. Bonnieu, L.F. Aubry, and was said to have also studied under Isabey and J.F.L. Mérimée. He entered the Academie des Beaux-Arts in Paris on the 16th of November 1813.
Rochard copied miniatures for Augustin. In 1815 he left for Brussels to escape conscription. He sketched Wellington, 13 June 1815; the Duke of Richmond also sat for him in Brussels. In 1816 Rochard arrived in London with introduction letters from the Duke of Richmond and Lady Caroline Lamb. He became popular and worked for distinguished clientele; painted Princess Charlotte, the Duke of Devonshire, etc.; exhibited at the Royal Academy, British Institution, Society of British Artists, etc. between 1816 and 1845.
The artist painted chiefly miniatures, but also executed engravings and pictures in oil. His work was influenced by that of Reynolds and Lawrence. He knew Wilkie and Delacroix. He became wealthy and collected Old Masters. In 1846 he settled in Brussels and exhibited in the Brussels Salon.
Rochard was nearly ruined by the failure of Moore's Bank, and died a few days later, on the 13th of June 1872.
Daphne Foskett says further: "..he was an excellent miniaturist.." Examples of his work may be seen at the Victoria and Albert Museum in London and the Ashmolean Museum in Oxford, as well as at the Louvre and other esteemed international museums.
Measurements of the 1st miniature: 7,6x5,1cm/3,0x2,0in FRAMED: 12,7x10,2cm/5,0x4,0in
Measurements of the 2nd miniature: 13,8x11,7cm/5,4x4,6in FRAMED: 18,3x16,0cm/7,2x6,3in

Provenance: private collection, England

midec1509
Condition: miniature of the child: good;
miniature of the adult woman - fairly good: two vertical cracks
Creation Year: 1810/30
Measurements:UNFRAMED:0,0x0,0cm/0,0x0,0in
Object Type:Framed miniatures
Style: Portrait Miniatures
Technique: each: watercolor on ivory
Inscription:each verso: old legend
Creator: Simon Jacques Rochard
Creator Dates: 1788 Paris-1872 Brussels
Nationality:French / English / British
We will cover shipping with regular registered mail (delivery between 7-14 days) for this item.

OBS: Austrian mail refunds cases of loss or damage with maximum EUR 500.


Fully insured 2-3 days DHL service available upon request and subject to extra charges: office@wilnitsky.net
Click here for images free of watermark!
Click on images or on

to see larger pictures!