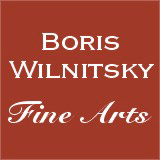 If you have a question about this item,
please contact us at: office@wilnitsky.net
# 43528
Rudolf Boettger (1887-1973) "Bazar in Odessa", oil on panel, 1918
Price: 4900 EUR
(please note additional Austrian VAT (Value Added Tax) applies for transactions concluded within the European Union)
Between 13th March and early December of 1918 the Ukrainian town Odessa (seaport at the Black Sea) was occupied by Austrian troops (last months of WWI; CLICK HERE). The author of the painting presented here, Rudolf Boettger, was then one of the Austrian officers staying in that city. Moreover, he was attached to these troops as a military artist (see his biography below).
The painting, dated 1918, shows a scene at one of the old bazars of Odessa - namely the "Novyj Rynok" ("New Market") at Torgovaja Street, near Sretenskaya Church (the latter does not exist anymore; see our image nr.11).
In 1919, already back home, Boettger showed this work at the annual exhibition in Vienna greatest exhibition hall "Wiener Künstlerhaus" in the city centre. It was commendably mentioned by the art critique (see our image nr.12).
Rudolf Boettger (Böttger; 1887 Tachau, Bohemia (now Tachov, Czech Republic) - 1973 Regensburg, Bavaria) studied in 1905/10 at the Vienna Academy of Fine Art where his professors were Franz Rumpler and Alfred Cossmann. For several months he also studied at the Munich Academy under Carl von Marr. From 1911 he lived in Vienna.
In 1914, after beginning of World War I he joined the Austrian Army as a volunteer and came to Russian front.
Back home in 1919, he became member of Viennese artist's union "Wiener Künstlerhaus". He remained in Vienna until 1945 with regular trips abroad (Italy, Netherlands, Sweden). After 1945 he lived in Deggendorf, Lower Bavaria, and finally in Regensburg.
From 1911 he participated at various exhibitions in Austria and abroad. Works of his are to see amongst others in the Austrian National Gallery "Belvedere", in the Viennese City Museum, in the Museum of Lower Austria, etc.
Provenance: Austrian antique trade
Condition: good: in original frame
Creation Year: 1918
Measurements:UNFRAMED:46,0x53,6cm/18,1x21,1in FRAMED: 62,0x69,0cm/24,4x27,2in
Object Type:Framed oil painting
Style: 19th century Russian paintings
Technique: oil on panel
Inscription:signed and dated: R.Böttger /(19)18; titled on metal tag
Creator: Rudolf Boettger
Creator Dates: 1887 Tachau, Bohemia-1973 Regensburg
Nationality:Austrian
2-3 days door-to-door shipment, professionally packed by Mail Boxes Etc and shipped with DHL (calculated for US): 295,12 EUR + insurance 1,8% of item price
Shipping cost to other destinations (worldwide) on request
Shipping price may be reduced if you dispense with the frame


Cheaper alternative (may be further reduced if you dispense with the frame): professionally packed by Mail Boxes Etc and shipped with regular Austrian mail - upon request under office@wilnitsky.net (OBS: In this case maximal refunded insurance value is EUR 500 if shipping destination was the US. In Europe sometimes more, depending on destination.)
Click here for images free of watermark!
Click on images or on

to see larger pictures!