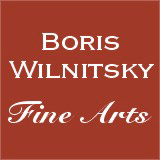 If you have a question about this item,
please contact us at: office@wilnitsky.net
# 43548
Mrs. Anne Mee "Mary Isabella Duchess of Rutland", rediscovered large miniature, 1809/12
Price: 7500 EUR
(please note additional Austrian VAT (Value Added Tax) applies for transactions concluded within the European Union)
This, very typical for this artist (see our comparison images nr. 15-19 and CLICK HERE ) work of well-known London female miniaturist Mrs. Anne Mee although showing the lady dressed and hairstyled according to the fashion of the early 1800s was nonetheless executed several years later.
The thing is that it is an artist's own replica (the first one! - see below) of some larger in size miniature on ivory made by Anne Mee in 1813 (now in Royal Collection Trust - see our image nr.11). The latter in its turn was made by the artist on base of the executed by her in early 1800s (sic!) miniature half-portrait of the same person - famous socialite, Mary Isabella Duchess of Rutland, nee Lady Somerset (1756-1831). This "early 1800s" portrait is known today only through a mezzotint by Charles Turner, published by latter in 1804 (see our image nr.12).

As we see in case of our and the 1813 replica Mrs Mee reworked early 1800's version - she showed the sitter not in form of a half-portrait but of a 3/4 one.
The Duchess of Rutland is shown already with a book in her left hand, seating in chair by a table with another, large volume.
Moreover, our version was reproducted still before 1813 - in engraving of 1812 (see our image nr.13). In both cases - our version and its reproduction - the book lying on the table has a title on its back - "GRAMMONT". It is just publisheed (1809!) 2nd edition of "Memoirs of Count Grammont" (CLICK HERE ) with notes by young Walter Scott and edited by himself.
On the second version - that, dated 1813 (Royal Collection Trust) - this inscription is absent.
Mrs. Anne Mee (nee Foldsone) was born in ca.1770/75 in London and died in 1851. She was a daughter of the artist John Foldsone who died while still young. Anne was educated at a French ladies' school in London. She had artistic talent as a musician, poetess and painter and was a protegee and pupil of Romney. Anne is said to have supported her mother and eight siblings at an early age. She obtained the patronage of George IV (when Prince of Wales) and was working at the Windsor Castle in 1790 and 1791. By 1804 she was asking as much as 40 guineas for a miniature. Sometime before 1804 she married Joseph Mee (died 1849) with whom she had six children before she was 33. Mrs Mee exhibited at the Royal Academy and the British Institute in 1804-37 and she was influenced by Cosway. Her works belong to collections of Her Majesty Queen of Great Britain, Wallace Collection, Victoria and Albert Museum, etc. On the international art market they achieve from time to time very high prices.
Provenance: auction house "Jerome Duvillard", Macon/France, Sale "Collection of Mr. X.", 24th September 2020, Lot 117 (absolutely erroneously described in sale catalogue - " Ecole francaise vers 1810, portrait presume d'Aglae Gabrielle de Grammont" (??!!)).
Condition: good; in magnificent original frame
Creation Year: 1809/12
Measurements:UNFRAMED:21,0x19,1cm/8,3x7,5in FRAMED: 37,0x34,0cm/14,6x13,4in
Object Type:Framed miniature
Style: Portrait miniatures
Technique: watercolor on card (rectangular)
Inscription:-
Creator: Mrs. Anne Mee
Creator Dates: ca. 1770/75 London-1851
Nationality:English / British
2-3 days door-to-door shipment, professionally packed by Mail Boxes Etc and shipped with DHL (calculated for US): 154,99 EUR + insurance 1,8% of item price
Shipping cost to other destinations (worldwide) on request
Shipping price may be reduced if you dispense with the frame


Cheaper alternative (may be further reduced if you dispense with the frame): professionally packed by Mail Boxes Etc and shipped with regular Austrian mail - upon request under office@wilnitsky.net (OBS: In this case maximal refunded insurance value is EUR 500 if shipping destination was the US. In Europe sometimes more, depending on destination.)
Click here for images free of watermark!
Click on images or on

to see larger pictures!