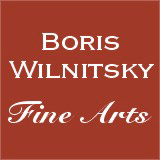 If you have a question about this item,
please contact us at: office@wilnitsky.net
# 43550
Ferdinand Machera "Italo-Portuguese artist Jose Cinatti", rare miniature portrait, 1830/35
Price: 2700 EUR
(please note additional Austrian VAT (Value Added Tax) applies for transactions concluded within the European Union)
THE SELLER WILL COVER SHIPPING WITH REGULAR MAIL FOR THIS ITEM!

According to title on verso - "Jose Cinatti" - and our comparison images nr. 9-10 with known portraits of this man, we are dealing here with perhaps the earliest of today existing portraits of the future stage designer in Lisbon, the Italo-born artistt Giuseppe Luigi (in Portugal Jose Luis) Cinatti. The latter came in 1836, in age of 28, to Lisbon from Lyon, France where he already for several years was active as a stage designer at local theatres.
We are sure this miniature (found in Lyon - see provenance notice below) showing him as a young man was executed still in Lyon - after 1836, in Lisbon there were no portrait miniaturists working with such skill as the author of this work.
On the contrary, in Lyon, in late 1820s - early 1830s lived two miniaturists who (due to their high professionality) could come in question - Ferdinand Machera (1776-1843) and Flavien-Emmanuel Chabanne (1799-1865).

After profound search through works of each of them we strongly believe to deal here with a work of Machera (see our comparison images nr.13-15). Besides that his "concurrent" Chabanne was between 1831-1837 out of Lyon - in that period he was active in Paris. So we are sure this miniature was executed by Ferdinand Machera in the early 1830s, shortly before the sitter's departure to Portugal (hid dress and hairstyle also speak fot that period).

Giuseppe Luigi (Jose Luis) Cinatti was born in 1808 in Siena and died in 1879 in Lisbon. He began his art study with his father, painter Luiz Cinatti, later visited architectural class of the Milan Academy of Fine Art. In 1820s he came to Lyon where he obtained job of a stage designer. As said above, in 1836 he moved to Portugal where (together with his French colleague and colaborator Achille Rombois and with a help of their impressario Francisco A. Lodis) he became soon one of the leading stage designers of Lisbon Theatre Sao Carlos. Besides that he decorated several important palaces of Lisbon and other Portuguese cities.
Our images nr. 7 and 8 provide his extensive biography (one of them a clip from Saur's "Allgemeines Künstler-Lexikon").
Ferdinand Machera (1776 Dole - 1843 Lyon) began his studies under Anatole Devosge in Dijon. According to Audin's "Dictionnaire des artistes et ouvriers d'Art du Lyonnais", he continued his studies in Paris in the studio of Jean-Baptiste Isabey. "Les petites Affiches de Lyon", in its issue of May 19th 1806, announced Machera's comeback to Lyon, where he remained until his death. In Lyon, he participated in art exhibitions from 1826 to 1840, showing portraits in pastel and watercolor, and also miniatures. His works can be viewed in Museum of Lyon, at the Metropolitan Museum of Art in New York, in Museum of Celle in Germany (Collection Tansey), e.t.c.
Schidlof, unaware of Machera's studying with Isabey, compares his works with those of Aubry and adds that Machera was strongly influenced by the latter.
Provenance: private collection, Lyon, France
Condition: good; in original frame
Creation Year: 1830/35
Measurements:UNFRAMED:9,5x9,5cm/3,7x3,7in FRAMED: 16,7x16,3cm/6,6x6,4in
Object Type:Framed miniature
Style: Portrait miniatures
Technique: watercolor on ivory (round)
Inscription:verso titled: Jose Cinatti
Creator: Ferdinand Machera
Creator Dates: 1776 Dole-1843 Lyon
Nationality:French
We will cover shipping with regular registered mail (delivery between 7-14 days) for this item.

OBS: Austrian mail refunds cases of loss or damage with maximum EUR 500.


Fully insured 2-3 days DHL service available upon request and subject to extra charges: office@wilnitsky.net
Click here for images free of watermark!
Click on images or on

to see larger pictures!