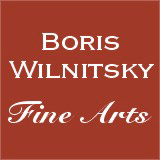 SALE!!! SAVE MONEY !! 1 EUR = 1 USD
# 43561
Firmin Massot (1766-1849) "Portrait of an elderly lady with a letter", fine drawing, ca. 1810
2250 EUR
FINAL DISCOUNT PRICE= 2250 USD
( for EUR price see date rate )
Please note: Shipping and insurance costs are not included in this promotion, ONLY ITEM PRICES!
(please note additional Austrian VAT tax applies for transactions concluded within the European Union)
A portrait of superior quality of an elderly lady who just opened a letter from her (adult) child (begins with the words "Mon Maman...").
Although unsigned it is a very typical and absolutely authentic work of leading Swiss portraitist from the turn of 19th century, Firmin Massot (see the other works of this artist in our possession).
Here is a brief biographical information about Firmin Massot (Thieme-Becker with revisions by Dr. Louzier-Gentaz):
Firmin Massot was born on May 5th 1766 in Geneva and died in the same city in 1849. From the age of 11, he studied at the "Ecole publique de dessin de Geneve" under professors Louis-Ami Arlaud-Jurine, Francois Ferriere and Jean-Etienne Liotard. After graduation, he lived in Italy for some time. Later, during the turmoil in Geneva, he was admitted at Mme de Staël's estate Coppet by Geneva. In 1795, he settled in Lausanne, yet returned to Geneva already in 1798. There, he established himself as high society's beloved portraitist, and, especially, as painter of female portraits. He also gained a wide recognition abroad.
In 1812, Empress Josephine ordered her full-length portrait from Massot (height 74,5 cm, length 66 cm; housed by Hermitage in St. Petersburg) - a commission he greatly valued. Her relatives considered this particular portrait to best resemble her. That was the reason, why she asked Massot to produce several (there are 25 known) small-sized replicas of her face (height 31 cm, length 27 cm) in order to offer them to her friends and family, as well as to members of her court, as token of gratitude for their loyalty (see: Valérie Louzier-Gentaz, " Firmin Massot et le portrait de l'impératrice Joséphine ", in Bulletin de la Société des Amis de Malmaison, 2004, n° 37, pp. 79-85).
During 1792-1800 Massot collaborated with his Swiss colleagues and friends Agasse and Toeppfer. On specific occasions, when Massot received important orders for full-length portraits, Toeppfer completed the background of landscape. This was Massot's way of helping Toeppfer financially.
Provenance: antique store in Bordeaux, France
Condition: good; in original frame
Creation Year: ca 1810
Measurements: UNFRAMED:21,5x18,5cm/8,5x7,3in FRAMED: 32,0x29,0cm/12,6x11,4in
Object Type: Framed drawing
Style: Portrait miniatures
Technique: charcoal with whitening on paper
Inscription: -
Creator: Firmin Massot
To see other works by this artist click on the name above!
Creator Dates: 1766 Geneva-1849 Geneva
Nationality: Swiss
2-3 days door-to-door shipment, professionally packed by Mail Boxes Etc and shipped with DHL (calculated for US): 123,91 EUR + insurance 1,8% of item price
Shipping cost to other destinations (worldwide) on request
Shipping price may be reduced if you dispense with the frame


Cheaper alternative (may be further reduced if you dispense with the frame): professionally packed by Mail Boxes Etc and shipped with regular Austrian mail - upon request under office@wilnitsky.net (OBS: In this case maximal refunded insurance value is EUR 500 if shipping destination was the US. In Europe sometimes more, depending on destination.)
Click here for images free of watermark!
Click on images or on

to see larger pictures!