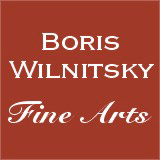 If you have a question about this item,
please contact us at: office@wilnitsky.net
# 43570
Anne-Sophie de Gaulle (great-grandmother of Charles de Gaulle) "Self-Portrait (?)" miniature,1795/1800
Price: 4500 EUR
(please note additional Austrian VAT (Value Added Tax) applies for transactions concluded within the European Union)
THE SELLER WILL COVER SHIPPING WITH REGULAR MAIL FOR THIS ITEM!

This, signed "De Gaulle" round miniature on ivory is a second, known today work of the French female miniaturist "Mme Degaulle" mentioned by Schidlof as author of a single, seen by him, octagonal miniature on ivory, showing a woman from mid 1800s (see our image nr.14). Neither Schidlof nor Mme Lemoine-Bouchard could say anything about this artist.
Through profound Web search we came to an amazing result. Not only did we establish the identity of this female artist, we found out that she was the great-grandmother of the General Charles de Gaulle, former President of France!

In attempt to find any information concerning this woman we began Google-search for "Mme Degaulle" "peintre en miniature". Google immediately showed a document from French National Archives with a mention of certain "Mme Degaulle, nee Gaussen, peintre en miniature" who on 31st January 1825 applied for a pension (see our image nr.9).
The following search brought definitive information.

We learned that her full birth name was Anne-Sophie-Rose Gaussen. She was born in Paris, on 28th September 1761 (sic! according to sitter's dress and hairstyle this miniature was executed in late 1790s as the artist was between 34-39 what fully corresponds to sitter's visual age). Is it a self-portrait(?!)). She was baptized at the Church St-Germain-l'Auxerrois situated at 2, Place du Louvre. Her father, Pierre Gassen (b. 1736) was a "verificateur du Roy" (Royal audit clerk). her mother's name was Marie Anne Genevieve Barber.
On 14th Termidor, Year III of Republican calendar (corresponds to 1st August 1795) she (being heavily pregnant (on 30th August she gave birth to twins Justine and Jeanne)) married just released (on 10th Termidor) from Bastile (he was imprisoned there since December) lawyer of Parisian Parliament Jean-Baptiste Philippe de Gaulle (1756-1832). Shortly after the wedding husband joined military postal service where he later achieved position of a Director of Military Post of the Grande Armee.
In 1801 Mme de Gaulle gave birth to son Julien Philippe de Gaulle (died in 1883), future celebrated historian and paternal grandfather of General Charles de Gaulle (CLICK HERE and see our image nr. 12).
Anne Sophie-Rose de Gaulle died in Paris, on 20th November 1840, in age of 79. Unfortunatelly we could not find any information concerning her artistic career (who was her teacher? when did she begin painting portrait miniatures?)...
Provenanc: private collection, USA
Condition: good, in original metal frame
Creation Year: 1795/1800
Measurements:UNFRAMED:6,0x6,0cm/2,4x2,4in FRAMED: 8,0x8,0cm/3,1x3,1in
Object Type:Framed miniature
Style: Portrait miniatures
Technique: watercolor on ivory (round)
Inscription:signed: De Gaulle
Creator: Anne Sophie-Rose de Gaulle
Creator Dates: 1761-1840
Nationality:French
We will cover shipping with regular registered mail (delivery between 7-14 days) for this item.

OBS: Austrian mail refunds cases of loss or damage with maximum EUR 500.


Fully insured 2-3 days DHL service available upon request and subject to extra charges: office@wilnitsky.net
Click here for images free of watermark!
Click on images or on

to see larger pictures!