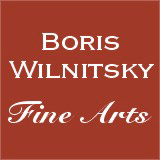 Conditions of Use

Welcome to Boris Wilnitsky Online Gallery! We provide our services to you subject to the following conditions. If you visit or shop at www.wilnitsky.com, you accept these conditions. Please read them carefully.
ELECTRONIC COMMUNICATIONS

When you visit wilnitsky.com or send e-mails to us, you are communicating with us electronically. You consent to receive communications from us electronically. We will communicate with you by e-mail or by posting notices on this site. You agree that all agreements, notices, disclosures and other communications that we provide to you electronically satisfy any legal requirement that such communications be in writing.
Wilnitsky.com graphics, logos are trademarks or trade dress of wilnitsky.com. Wilnitsky.com's trade dress may not be used in connection with any product or service that is not wilnitsky.com's, in any manner that is likely to cause confusion among customers, or in any manner that disparages or discredits wilnitsky.com.
SITE ACCESS

Wilnitsky.com grants you a limited license to access and make personal use of this site and not to download (other than page caching) or modify it, or any portion of it, except with express written consent of wilnitsky.com. This license does not include any resale or commercial use of this site or its contents; any collection and use of any product listings, descriptions, or prices; any derivative use of this site or its contents; any downloading or copying of account information for the benefit of another merchant; or any use of data mining, robots, or similar data gathering and extraction tools. This site or any portion of this site may not be reproduced, duplicated, copied, sold, resold, visited, or otherwise exploited for any commercial purpose without express written consent of wilnitsky.com. You may not frame or utilize framing techniques to enclose any trademark, logo, or other proprietary information (including images, text, page layout, or form) of wilnitsky.com without express written consent. You may not use any meta tags or any other "hidden text" utilizing wilnitsky.com's name or trademarks without the express written consent of wilnitsky.com.at. You may not use any wilnitsky.com logo or other proprietary graphic without express written permission.
YOUR ACCOUNT

If you use this site, you are responsible for maintaining the confidentiality of your account and password and for restricting access to your computer, and you agree to accept responsibility for all activities that occur under your account or password or other information, so long as the content is not illegal, obscene, threatening, defamatory, invasive of privacy, infringing of intellectual property rights, or otherwise injurious to third parties or objectionable and does not consist of or contain software viruses, political campaigning, commercial solicitation, chain letters, mass mailings, or any form of "spam." You may not use a false e-mail address, impersonate any person or entity, or otherwise mislead as to the origin of a card or other content. wilnitsky.com reserves the right (but not the obligation) to remove or edit such content, but does not regularly review posted content.
PRODUCT DESCRIPTIONS

Wilnitsky.com attempts to be as accurate as possible. However, wilnitsky.com does not warrant that product descriptions or other content of this site is accurate, complete, reliable, current, or error-free. If a product offered by wilnitsky.com itself is not as described, your sole remedy is to return it in the same condition as received. (See our Return Policy )
PLEASE NOTE THAT BY ACCEPTING THESE CONDITIONS OF SALE, YOU ARE AGREEING THAT ALL TRANSACTIONS CONDUCTED ON THIS SITE WILL BE SUBJECT TO THE LAWS OF THE STATE OF VIENNA, AUSTRIA, AND CONSENTING TO EXCLUSIVE JURISDICTION IN THE COURTS OF THE STATE OF VIENNA, AUSTRIA OR FEDERAL COURTS IN VIENNA, AUSTRIA.

BINDING CONTRACT
By buying any item (pressing "order now" in your shopping cart), you irrevocably agree to pay the Total Purchase Price for the item. Once you have confirmed your purchase it may not be cancelled by you. Each purchase creates a binding obligation on you, as Buyer, to pay fully and promptly all sums due and perform any other conditions of completion with respect to the applicable sale.